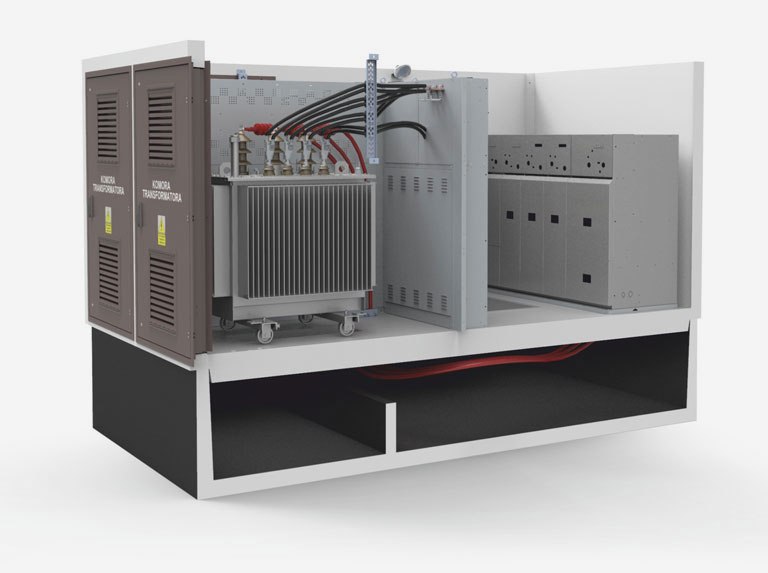 Introduction
ZPUE S.A has been manufacturing container substations for over 30 years. Our experience combined with highly specialised engineering knowledge has enabled us to create a wide range of solutions for the commercial power sector, industry, renewable energy sources and for specialist uses — dedicated for railway transport. Manufacturing over 3000 substations annually ensures that ZPUE S.A. is the market leader on the Polish market. Over the years, the company became a trusted and important partner supplying both European and global markets.
MRw-b substations in concrete enclosures with internal service corridor are prefabricated containers composed of three monolithic reinforced concrete elements, constructed with C30/37 class concrete — foundations, main structure and roof. In standard version, substation design enables the placement of hermetically sealed transformers with a power up to 1000 kVA. Our offer also includes solutions which enable installation of higher power units, even up to 4 MVA in various versions (specialised, resin and oil transformers with conservator tank).
Such solutions, due to their specific features, have to be consulted with the substation manufacturer. The transformer is installed through the transformer chamber doors or from the top, after removing the roof, and is operated after opening the doors to the transformer chamber.
Depending on the intended use, switchgears of our own manufacture are installed in the substations:
Others on arrangement with the manufacturer.
The aforementioned switchgears are independently installed elements of substation equipment, and they are operated, depending on the version of the substation, either from an internal corridor or from the outside, after opening the doors of a given compartment. Connections between the MV switchgear and the transformer and between the transformer and the LV switchgear are made with cables, and as option in special versions with busbar bridges or bus ducts.