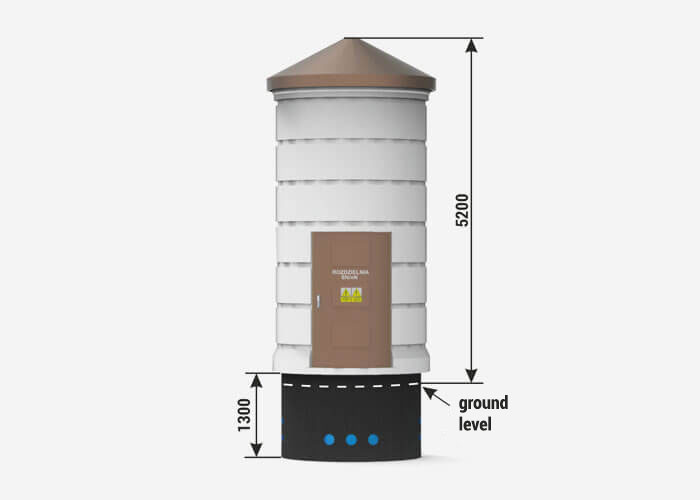 The WST type substation may be used in every situation where the placement of typical transformer substations is not possible due to architectural constraints. Since it occupies a very small area, it fits perfectly into landscapes of old towns, markets and squares surrounded by dense, old buildings, and it has a stylised façade which enables adapting it to the architecture of existing buildings.
The station is a building composed of four monolithic reinforced concrete castings with a circular cross-section, which include: foundations, main structure with MV and LV switchgears, main structure with transformer chamber, and roof.
Substation height is specified as total above the ground level, with concrete roof
Standard
5200 mm
Placement of equipment
Switchgear structure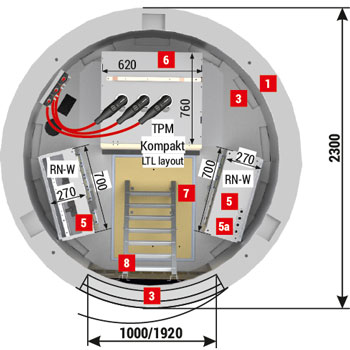 Transformer chamber structure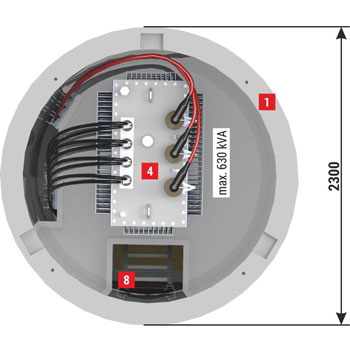 1
Walls, 130 mm thick — standard
Fire integrity class REI 120
2
Ventilation grating IP 23D - standard, IP 43 - optional
3
Doors: solid or with ventilation louvres without fire integrity IP 23D - standard, IP 43 - optional
Doors with fire resistance e.g EI 60 or EI 120 - optional
4
Transformer
5
LV switchgear
5a
AMI cabinet / Smart Grid / telemetry / auxiliary
6
MV switchgear
7
Cable duct hatch door
8
Hatch / ladder to the transformer chamber
Technical parameters / configuration possibilities
Mass / Area
Foundation
3 600 kg
Switchgear structure
5 200 kg
Transformer structure
5 100 kg
Concrete roof
1 500 kg
Metal roof
350 kg
Usable area
3,46 m2
Technical parameters / configuration possibilities
Transformer* (4) Maximum power / dimension
630 kVA / 950 x 1400 x 1650 [mm]
Internal arc resistance classification
IAC-AB-20 kA-1s
Enclosure class
20
Electrical parameters of switchgears
MV
LV
Rated voltage
up to 25 kV
up to 0,69 kV
Rated current
630 A
up to 1250 A
Rated short-time withstand current
up to 25 kA (1s)
up to 25 kA (1s)
Rated peak withstand current
up to 63 kA
up to 55 kA
Switchgear**
Type
Maximum number of bays
LV (5)
RN-W
12 (for TPM Kompakt - LLTL or TPM C - LTL)
MV (6)
TPM Kompakt
4 (LLTL)
* Transformer inserted from above, before the roof is attached.
** Detailed selection of switchgears and their equipment is listed in chapters dedicated to individual devices in the catalogue. Example layouts of switchgears and corresponding substation configurations are specified in parentheses. The possibility of installing other types and configurations of switchgears should be arranged every time with the substation manufacturer.