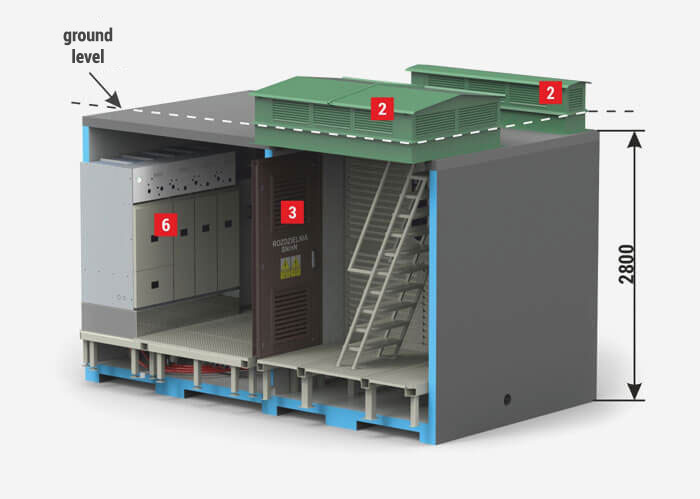 In every place where it is not possible to place any "conventional, above ground" substation due to architectural considerations and lack of space, underground substations are the only solution. The station is constructed as a sealed, monolithic concrete container to be placed under ground level, with medium and low voltage switchgears installed inside. The used MV switchgear (TPM, Rotoblok SF) and LV (RW-N) form independent elements of the station. The station may be placed under walkway, square etc.
A bilge between two floors ensures correct operation even in case of surface rainwater infiltration through ventilation openings. Watertight cable entries and sealed concrete enclosure ensure many years of reliable operation.
Height of the main structure of the substation:
External height
2800 mm
Internal height
2050 mm
Placement of equipment
PST-b (4,7x3) 20/630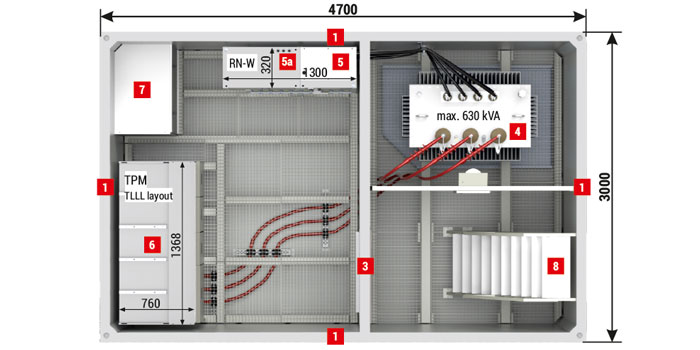 Placement of equipment - example custom design solution
PST-bS 20/630+800+1000-10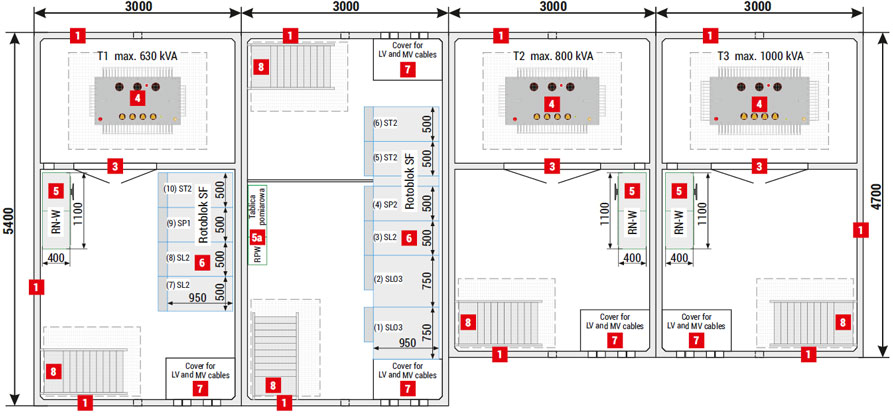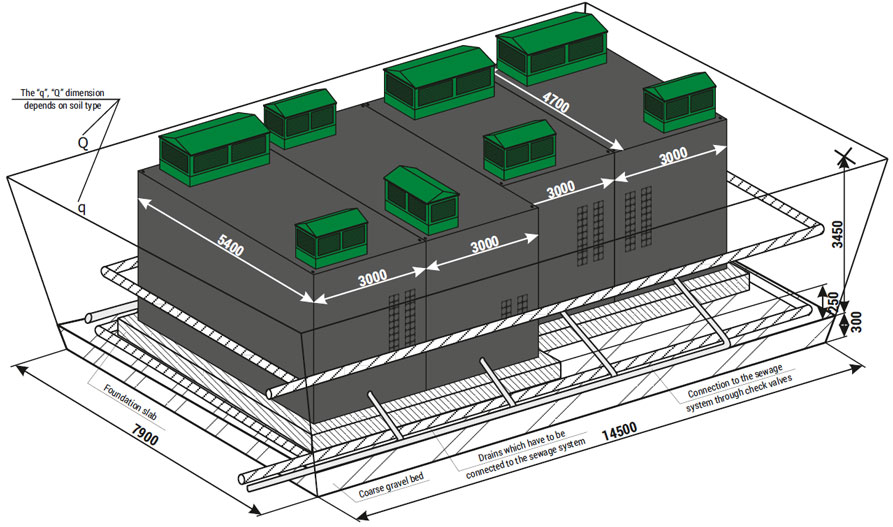 1
Walls, 120 mm thick - standard, 90 mm - optional
2
Ventilation louvres IP 23D - standard, IP 43 - optional
3
Doors: solid or with ventilation louvres without fire integrity IP 23D - standard, IP 43 - optional
Doors with fire resistance e.g EI 60 lub EI 120 - optional
4
Transformer
5
LV switchgear
5a
AMI cabinet / Smart Grid / telemetry / auxiliary
6
MV switchgear
7
Cable duct hatch door
8
Hatch / ladder to the transformer chamber
Technical parameters / configuration possibilities
Mass / Area
Main structure
25 000 kg
Usable area
12,32 m2
Technical parameters / configuration possibilities
Transformer* (4) Maximum power / dimension
630 kVA / 950 x 1750 x 1850 [mm]
Internal arc resistance classification
IAC-AB-16 kA-1s
Enclosure class
20
Electrical parameters of switchgears
MV
LV
Rated voltage
up to 25 kV
up to 0,69 kV
Rated current
630 A
up to 1250 A
Rated short-time withstand current
up to 20 kA (1s)
up to 25 kA (1s)
Rated peak withstand current
up to 50 kA
up to 52,5 kA
Switchgear**
Type
Maximum number of bays
LV (5)
RN-W
12
MV (6)
TPM
4 (TLLL or WLLL)
Rotoblok SF (500 mm)
4
* Transformer inserted from above, before the roof is attached.
** Detailed selection of switchgears and their equipment is listed in chapters dedicated to individual devices in the catalogue. Example layouts of switchgears and corresponding substation configurations are specified in parentheses. The possibility of installing other types and configurations of switchgears should be arranged every time with the substation manufacturer.