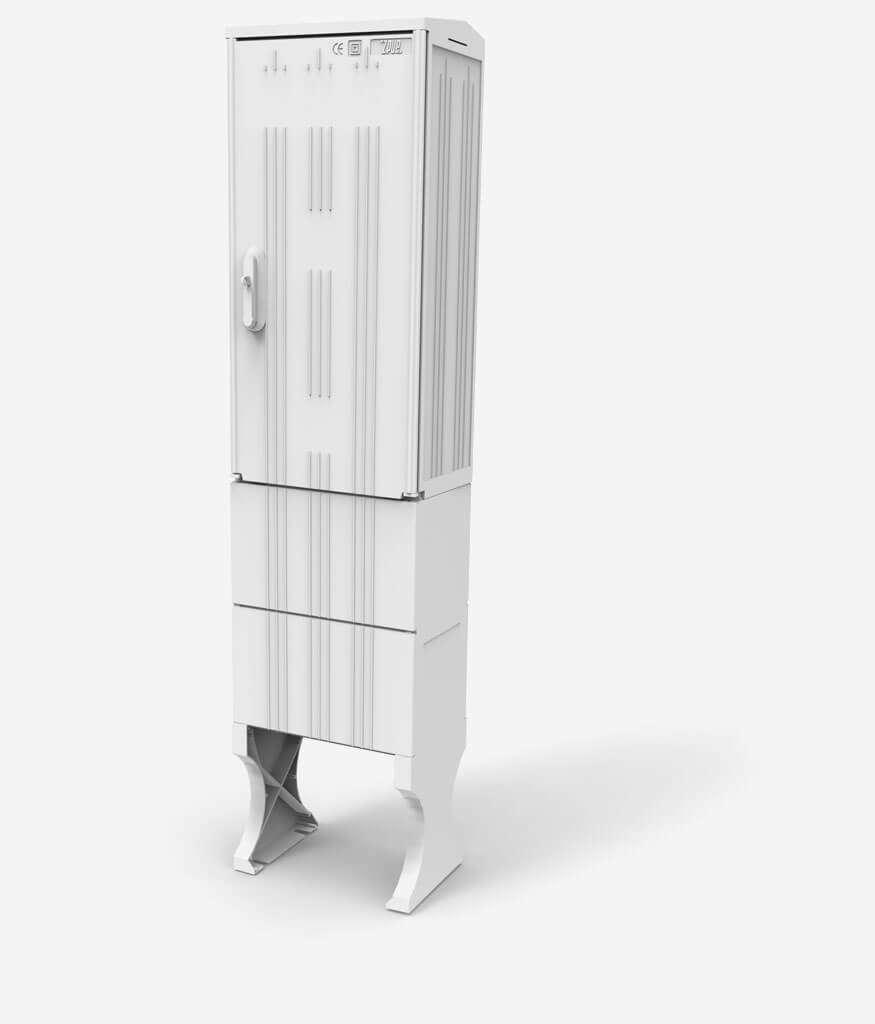 Responding to the needs of customers for the supply of high quality cable cabinet enclosures constructed with SMC fibreglass reinforced thermosetting polyester ZPUE S.A., having at its disposal appropriate machinery and human resources, manufactures high quality SKRD and SKRF type thermosetting plastic enclosures. By considering the feedback provided by our customers concerning the existing technical solutions and suggestions of changes to the solutions currently available on the market, we have created a product range of SKR cabling & distribution cabinets, adapted to the requirements of national energy distribution companies. Our company, as the leading manufacturer in the sector continuously improves manufacturing technology, resulting in the highest quality of our products. Our products have appropriate certificates.
Manufacturing technology
The used material is a key element in ensuring high quality of manufacturing and long service life of the cabinets. The ZPUE S.A. company has used its long-term relationships with the best industrial chemical manufacturers in Europe, and the knowledge and experience of personnel who has been working in the field of SMC plastic processing for years. The material used for the manufacturing of our cabinets consists of multiple components, which guarantee meeting the requirements of mechanical and thermal strength and restricting the harmful impact of UV radiation on the used material, which guarantees long life and excellent appearance of our cabinets.
Area of application
Enclosures of thermosetting plastic are widely used in power engineering, industry and telecommunications due to their universality. They are manufactured from insulating, self-extinguishing and flame retardant composite (polyester + fibre glass — SMC) with high weather resistance (UV). Modular construction enables any combination of the enclosure with foundation, extension or cable compartment, and combining of enclosures in either a vertical or horizontal layout. Varying dimensions enable the adaptation of the enclosure to the customer's requirements or to the used equipment. The specially developed internal design of the enclosure, integrated with additional elements ensures quick and convenient installation of equipment and devices inside the enclosure. The enclosures are painted as standard with RAL 7035 and at the customer's request they may be coated with plastic varnish in any colour in the RAL palette.
Characteristics and advantages of SKR enclosures
Made of highest quality self-extinguishing SMC material. Excellent durability and appearance, for many years. Resistance to UV radiation and changing weather conditions. Very high mechanical strength. Ventilation for ensuring the removal of excess moisture. Modular design enabling the replacement of faulty parts. Due to modular design it is possible to divide the enclosures vertically and horizontally. Possibility of configuring any connection box or expanding an existing one. Possibility of equipping with strip-type switch disconnectors (in 320 mm version enables parking) Three-point door locking mechanism made of plastic or metal. Possibility of simple and quick toolless removal of doors and foundation covers, facilitating the work of installers. External surface is ribbed, improving appearance and hindering placement of posters on the cabinet.