Electricity consumption metering boards
Solutions for metering boards presented in the catalogue can be used to the construction of new metering and billing systems, as well as modernization of the existing solutions. Description contains solutions for metering and billing systems for indoor installation with electronic meters (for target systems) adapted to remote data readout. Presented materials are only a technical concept and their application requires making a technical project based on power distribution company requirements.
Electricity consumption metering boards are divided into:
direct metering systems
semidirect metering systems
indirect metering systems
Metering board cubicle is made of steel sheet. Metering boards are adapted to the highest class electronic metering apparatus installation.
View and electric diagram of metering systems
ZELP - Distribution boards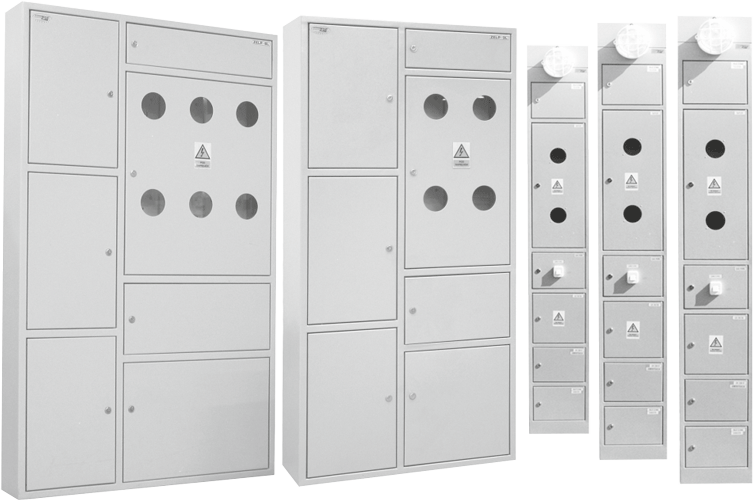 Distribution boards ZELP type are a construction-assembly system, which enables installation of vertical electrical lines in house-buildings and for installation of the following electrical equipment:
wlz branch point;
residential pre-metering protection devices;
liczników lokatorskich 1-single phases and three-phase residential meters (optionally two-tariff meters);
single phase and three-phase socket;
light fixtures (overhead) and staircase light control button;
cable distributors or connectors for telephone and residential intercom lines.
Cubicle dimensions according to customers' needs.
Exemplary views, dimensions, apparatus arrangement and electrical diagrams
PSU - Universal control panels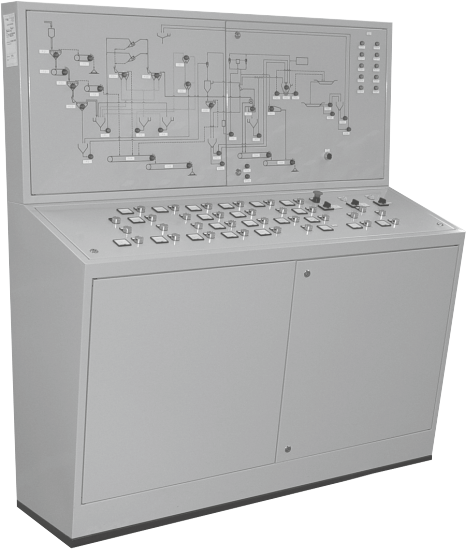 Universal control panel is used for installation of the control and control-metering apparatus, computer devices and visualization. It is particularly suitable for technological lines automation and processing centres as a very comfortable operator's place. Control panel is composed of three segments i.e. cable compartment, middle part for controlgear installation and upper part with installed control-metering devices. Configuration and equipment according to customer's individual needs.
Single-door versions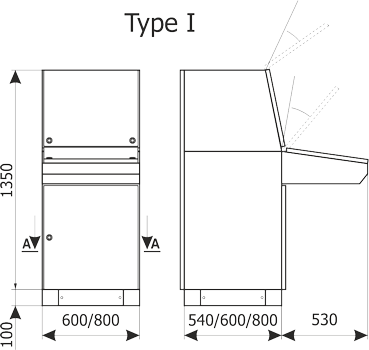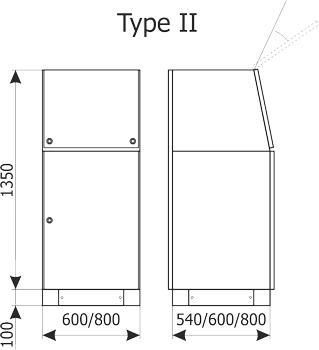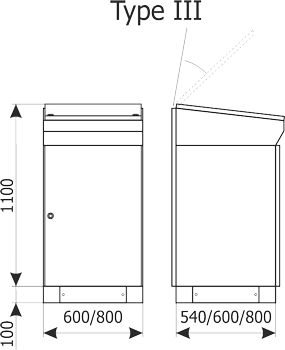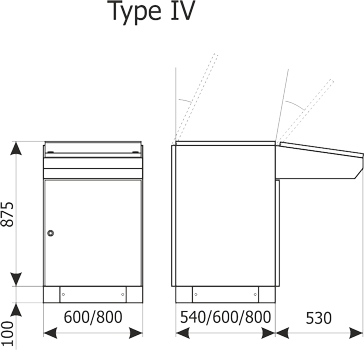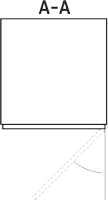 Double-door versions