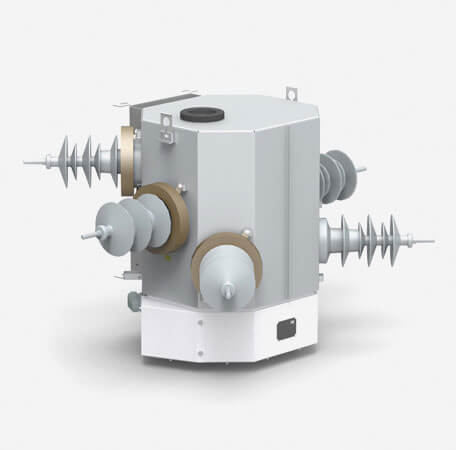 The basic element of THO series sectionalizers; THO/II is a TH12 switch disconnector closed in a leak proof, stainless steel tank filled with SF6 gas. The tank meets the leakage requirements in accordance with IEC 56. This means that there is no need to refill this element during normal switch disconnector operation. According to provisions in force relating to the supervision of high-pressure devices, the appliance is not under the obligation to be supervised because of low SF6 gas content in the tank. A modern and reliable control system together with a radio supervision system (remote) guarantee several decades of working without the need to perform cumbersome inspections, adjustments and contact maintenance, which is very important in extensive overhead networks. Switch disconnector contacts inside the tank are connected with bushing insulators, which allow installation of "self-cleaning" silicone insulators 24 (25) kV, 36 kV with excellent hydrophobic properties. Silicone insulators are connected with an overhead or cable line bridge. It is also possible to equip them with connector angle heads. A simple and reliable electric drive with single or double-spring mechanism was applied for remote controlling, which allows automatic reclosing (on and off) of the switch disconnector primary contacts during 50ms. Motor drives equipped with THO series switch disconnectors/ sectionalizers cooperate with all radio control and supervision systems in the Smart Grid networks.
Electric drives are made in two versions:
single-spring drive "T-1" –total response time of 55,6 seconds,
double-spring drive "T-2" – storage to cooperation with full SPZ automation, which is used for fast disconnection of the faulty parts in the network during a de-energized interval, with a disconnection response time of 0,1s.
A T-1 or T-2 motor drive is installed directly on the switch disconnector tank and is joined with its main operation shaft. It prevents access to the appliance by unauthorized people, and eliminates the possibility of faulty indications and malfunctions. Both the spring mechanism and motor have indication contacts, which send information of the appliance position to the SCADA system, and a visual indicator, which is seen from the ground level.
Each switch disconnector is equipped with a manual drive, which allows maneuvering the appliance from the ground. This drive is adapted for mechanical locking in the open or closed position with the possibility to install a padlock.