Construction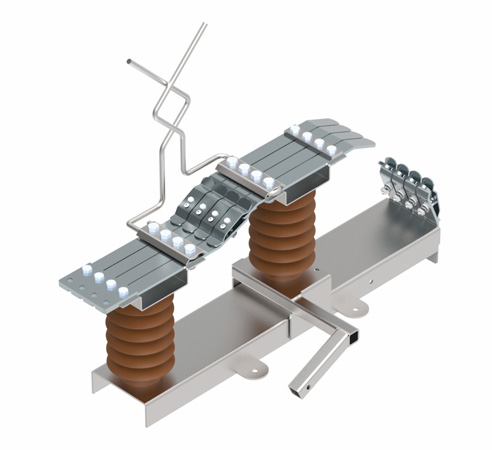 Switch disconnector RNK-1 is designed for continuous and short-circuit current conduction, as well as to perform switching operations in a current range which does not exceed the rated continuous current of the switch disconnector.
A switch disconnector is a single-pole appliance, which is composed of a fixed base, movable base, hydro-cycloaliphatic resin insulators, current busbars, electric arc extinguishing guide bars. The main contacts of the switch disconnector are made from profiled electrolytic copper flat bars coated with silver plating. Construction elements are made from St3SY steel and protected against corrosion by hot dip galvanizing. All movable elements are made from stainless steel. A switch disconnector can be equipped with a busbar connection. In open/closed position, the switch disconnector makes a visible and safe isolation gap.
Overhead rail switch disconnector RNK-1 parameters
Compliance with standards:
The overhead cable switch disconnector RNK-1 complies with the requirements of the PN-EN 50123 norm.
Technical parameters of the switch disconnector
Rated voltage Ur
3,6kV
Rated continuous current Ir
4000A
Rated breaking current
4000A
Rated making current
4000A
Short-circuit current
50kA
Time of the short-circuit
0,2s
Operation temperature
-25 do +40°C
Mechanical class of the switch disconnector
M2
Electrical class of the switch disconnector
Minimum 15 switches of the rated current