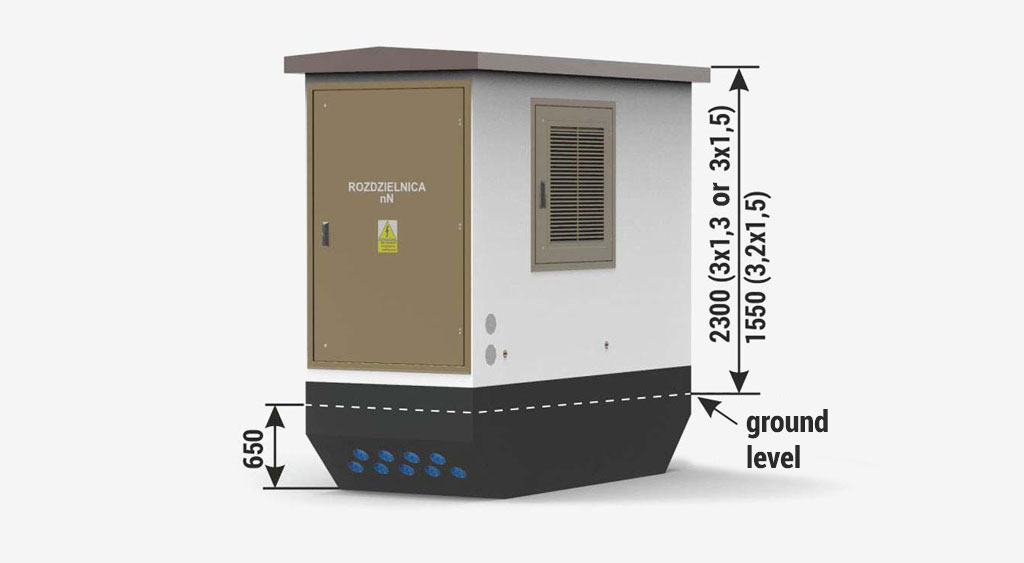 Height of the main structure of the substation:
Standard
2850 mm (3x1,3 lub 3x 1,5)
2200 mm (3,2x1,5)
Placement of equipment
Mzb2 (3x1,3) 20/400-4"a"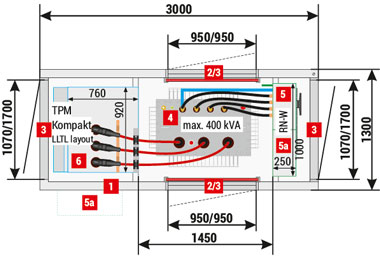 Mzb2 (3x1,3) 20/400-4"b"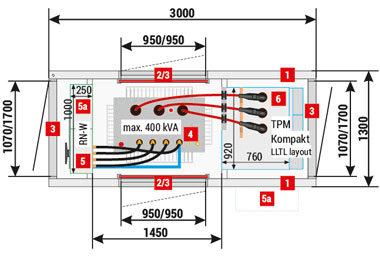 Mzb2 (3,2x1,5) 20/630-3"a"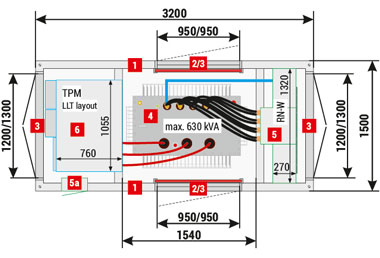 Mzb2 (3x1,5) 20/630-4"b"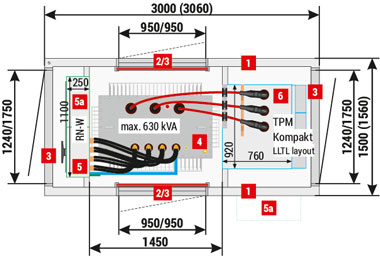 | | |
| --- | --- |
| 1 | Walls, 90 mm thick - standard |
| 2 | Ventilation louvres IP 23D - standard, IP 43 - optional |
| 3 | Doors: solid or with ventilation louvres, IP 23D - standard, IP 43 - optional |
| 4 | Transformer |
| 5 | LV switchgear |
| 5a | AMI cabinet / Smart Grid / telemetry / auxiliary |
| 6 | MV switchgear |
Technical parameters / configuration possibilities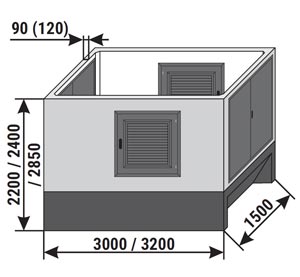 Mass / area 3x1,3 (3,2x1,5)
Main structure
6 000 (7 000) kg
Concrete roof
1 100 (1 400) kg
Usable area
3,16 (3,99) m2
Mass / area 3x1,5 (3,06x1,56)
Main structure
6 500 (8 500) kg
Concrete roof
1 300 kg
Usable area
3,72 m2
Technical parameters / configuration possibilities
Transformer* (4) Maximum power / dimension
400 kVA / 900 x 1350 x 1700 [mm]
(for width 1300)
630 kVA / 980 x 1400 x 1750 [mm]
Internal arc resistance classification
IAC-AB-16 kA-1s
Enclosure class
up to 10 (depending on configuration)
Electrical parameters of switchgears
MV
LV
Rated voltage
up to 25 kV
up to 0,69 kV
Rated current
630 A
up to 1250 A
Rated short-time withstand current
up to 25 kA (1s)
up to 25 kA (1s)
Rated peak withstand current
up to 63 kA
up to 55 kA
Switchgear**
Type
Maximum number of bays
LV (5)
RN-W
7 (3x1,3) / 10 (3x1,5 or 3,2x1,5)
MV (6)
TPM
3 (LLT or LLW - for 3x1,5 or 3,2x1,5)
TPM Kompakt
4 (LLTL)
* Transformer inserted from above, before the roof is attached.
** Detailed selection of switchgears and their equipment is listed in chapters dedicated to individual devices in the catalogue. Example layouts of switchgears and corresponding substation configurations are specified in parentheses. The possibility of installing other types and configurations of switchgears should be arranged every time with the substation manufacturer.
*** Smart Grid cabinet fitted outside.