{tab Characteristics}
Transformer stations variants
The webside presents only exemplary solutions of the container stations.
Thanks to many years of experience and a team of qualified engineers, we are able to prepare solutions corresponding to the needs of the most demanding clients. The best example is in the deliveries for contractors such as: PGE, TAURON, ENERGA, ENEA, RWE, PKP Energetyka, KGHM, KWB Bełchatów, ČEZ, EON, RWE, Alstom and many more.
Station type Mzb 20/2x630
Diagram of the standard station type Mzb 20/2x630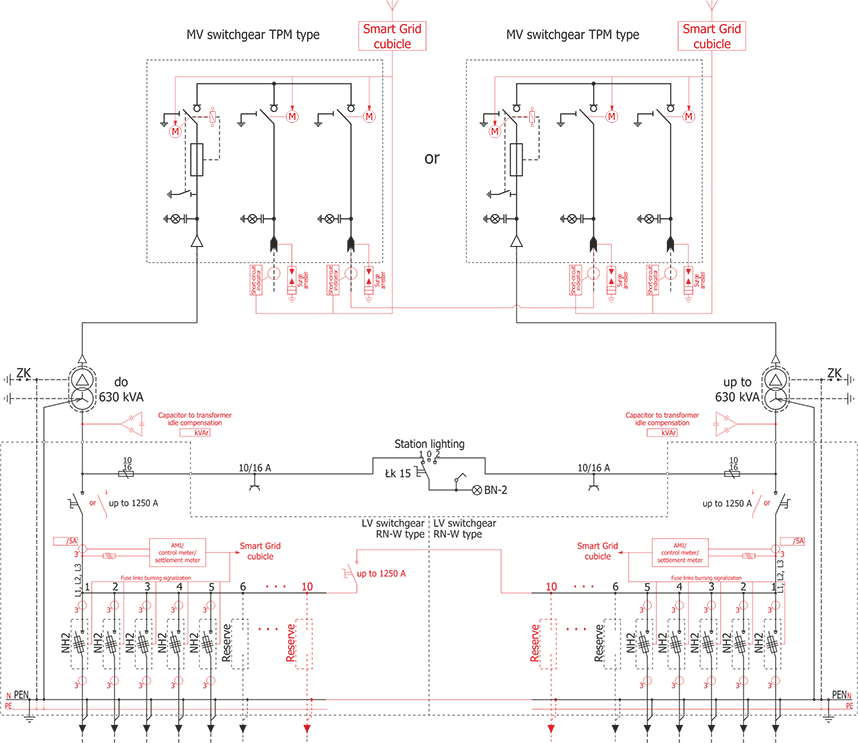 Notice:
Optional station equipment is

marked in red.

oznaczono wyposażenie opcjonalne stacji. More information about the selection of switchgears and their equipment can be found in categories of switchgears LV i MV.
Station can be designed in mirror version.
Configuration options
Type
MV bay number
(LV feeders)
MV switchgear
TPM
up to 2x4
LV switchgear
RN-W
up to 2x10
Maximum transformer power
up to 2x630 kVA
Housing class - 20
Weight
| | |
| --- | --- |
| main body: | 16 500 kg |
| concrete roof: | 4 500 kg |
| metal roof: | 600-700 kg |
| usable area: | 10,93 m2 |
{tab Station construction} {tab Roof type} {tab MV and HV cable glands} {tab Colouristics} {tab Transport} {tab Placing station} {/tabs}